Dual band WiFi up to 1200Mbps

Supports new 802.11ac & b/g/n WiFi devices

High-power external antennas for better performance

World's smallest AC1200 wall-plug extender

2 Year Warranty
What's in the box:
1 x AC1200 WiFi Range Extender (EX6120)

1 x Quick start guide
NETGEAR AC1200 WiFi Range Extender Essentials Edition boosts your existing network range, delivering AC dual band WiFi up to 1200 Mbps. It works with any standard WiFi router & is ideal for HD video streaming & gaming. This Range Extender is the world's smallest AC1200 wall-plug extender. Get the connectivity you need for iPads®, smartphones, laptops & more.
Boost AC1200 WiFi
Improve the range of your existing AC1200 WiFi network.
External Antennas
For better WiFi coverage and more speed.
Ethernet Port
Connect a wired device like a game console or a smart TV to your WiFi network
Simultaneous Dual Band WiFi
Extend 2.4 & 5GHz WiFi up to 1200 Mbps & reduce interference.
FastLaneâ"¢ Technology
Use both WiFi bands to establish one super high-speed connection; ideal for HD streaming & gaming.
Two WiFi Modes
Extend existing WiFi connection or create a new AC WiFi access point.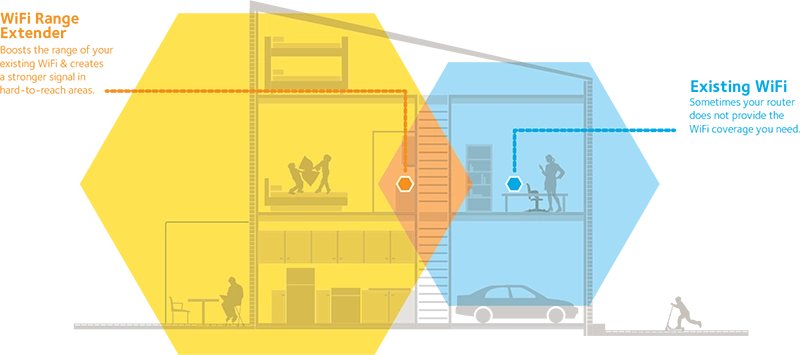 Tech Specs
WiFi Technology
WiFi Performance
AC1200 (300 Mbps+900 Mbps)†
WiFi Band
Number of Ethernet Ports
One (1) 10/100 Mbps Fast Ethernet port with auto-sensing technology
Number of USB Ports
Key Features
Dual band WiFi up to 1200 Mbps

Supports new 802.11ac & b/g/n WiFi devices

High-power external antennas for better performance

Pleasantly small design for discreet, convenient placement in your home

1 Fast Ethernet port to connect wired devices such as a game console or a smart TV

FastLane

â"¢

feature provides high-speed WiFi on both wireless bands and is ideal for HD gaming and video streaming
Ease of Use
CD-less setup—great for mobile devices

Push 'N' Connect using Wi-Fi Protected Setup

®

(WPS)1
Security
WiFi Protected Access

®

(WPA/WPA2-PSK) and WEP
Product Diagram
Package Contents
AC1200 WiFi Range Extender (EX6120)

Quick start guide
Physical Specifications
Dimensions: 55.17 x 67.17 x 39 mm (2.17 x 2.64 x 1.54 in)

Weight: 130 g (0.29 lb)
Standards
IEEE

®

802.11 b/g/n 2.4GHz

IEEE 802.11 a/n/ac 5GHz

One (1) 10/100 Mbps Fast Ethernet port with auto-sensing technology
System Requirements
2.4 and/or 5GHz 802.11ac & b/g/n wireless router or gateway

Microsoft

®

Internet Explorer 8.0, Firefox

®

20, Safari

®

5.1, or Google Chrome 25.0 browsers or higher
Lazada
color_family
White
description_ms

Dual band WiFi up to 1200Mbps

Supports new 802.11ac & b/g/n WiFi devices

High-power external antennas for better performance

World's smallest AC1200 wall-plug extender

2 Year Warranty

What's in the box:

1 x AC1200 WiFi Range Extender (EX6120)

1 x Quick start guide

NETGEAR AC1200 WiFi Range Extender Essentials Edition boosts your existing network range, delivering AC dual band WiFi up to 1200 Mbps. It works with any standard WiFi router & is ideal for HD video streaming & gaming. This Range Extender is the world's smallest AC1200 wall-plug extender. Get the connectivity you need for iPads®, smartphones, laptops & more.

Boost AC1200 WiFi

Improve the range of your existing AC1200 WiFi network.

External Antennas

For better WiFi coverage and more speed.

Ethernet Port

Connect a wired device like a game console or a smart TV to your WiFi network

Simultaneous Dual Band WiFi

Extend 2.4 & 5GHz WiFi up to 1200 Mbps & reduce interference.

FastLane™Technology

Use both WiFi bands to establish one super high-speed connection; ideal for HD streaming & gaming.

Two WiFi Modes

Extend existing WiFi connection or create a new AC WiFi access point.

Tech Specs

WiFi Technology

WiFi Performance

AC1200 (300 Mbps+900 Mbps)†

WiFi Band

Number of Ethernet Ports

One (1) 10/100 Mbps Fast Ethernet port with auto-sensing technology

Number of USB Ports

Key Features

Dual band WiFi up to 1200 Mbps

Supports new 802.11ac & b/g/n WiFi devices

High-power external antennas for better performance

Pleasantly small design for discreet, convenient placement in your home

1 Fast Ethernet port to connect wired devices such as a game console or a smart TV

FastLane

™

feature provides high-speed WiFi on both wireless bands and is ideal for HD gaming and video streaming

Ease of Use

CD-less setup—great for mobile devices

Push 'N' Connect using Wi-Fi Protected Setup

®

(WPS)1

Security

WiFi Protected Access

®

(WPA/WPA2-PSK) and WEP

Product Diagram

Package Contents

AC1200 WiFi Range Extender (EX6120)

Quick start guide

Physical Specifications

Dimensions: 55.17 x 67.17 x 39 mm (2.17 x 2.64 x 1.54 in)

Weight: 130 g (0.29 lb)

Standards

IEEE

®

802.11 b/g/n 2.4GHz

IEEE 802.11 a/n/ac 5GHz

One (1) 10/100 Mbps Fast Ethernet port with auto-sensing technology

System Requirements

2.4 and/or 5GHz 802.11ac & b/g/n wireless router or gateway

Microsoft

®

Internet Explorer 8.0, Firefox

®

20, Safari

®

5.1, or Google Chrome 25.0 browsers or higher

name_ms
Netgear AC1200 WiFi Range Extender - Essentials Edition (EX6120)
source
asc
Url
https://www.lazada.com.my/-i637870256-s1334462314.html
Warranty Period
2 Years
warranty_type
Local Manufacturer Warranty
Whats in the box
Mandatory
Color Family
Highlight
Video URL
Warranty Period
Warranty Type
Whats in the box